Enjoy Movies Your Way: the place to go for personalized home entertainment.
At Enjoy our hope is to honor each person's dignity by helping equip them in their right to choose their own experience when watching TV in the privacy of their home.
Use the "Enjoy" app to unlock the ultimate in custom streaming! You'll gain access to family-friendly filters and lots of other features that bring even more fun to your movie watching experience.
The Enjoy service aims to accomplish these main purposes: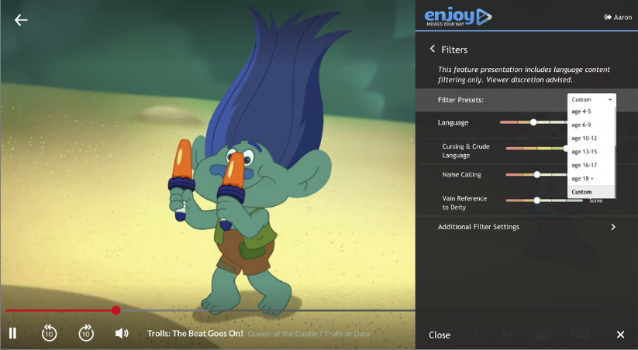 We're a group of story telling enthusiasts who recognize the power of stories to inspire and challenge people to reach higher and go farther! Many of us are also parents who appreciate tools that empower us to address sensitive or objectionable topics at age appropriate times with parental participation. Enjoy strives to be an important tool helping parent's accomplish this as well as offer other re-imagined ways to make home entertainment as fun and enjoyable as possible.
Here is a little about the people who have contributed to the Enjoy project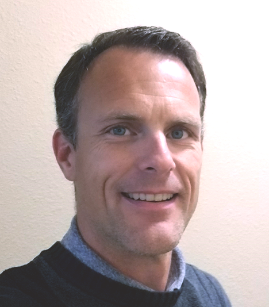 Chad is the owner and founder of Enjoy Movies Your Way LLC. Chad and his Wife, Ruth, were married in 1994 and are the proud parents of three daughters. Over the course of his career, he has lived all over the United States as well as four years with his family overseas in Papua New Guinea serving with Wycliffe Associates on the mission field.
In his free time, Chad enjoys spending time with his wife, kids, and friends. Other favorite activities are playing ultimate frisbee, and serving the community as a volunteer in various capacities.
The idea for this service was inspired over 20 years ago during his first year of marriage while hosting the in-laws for a Thanksgiving meal. After a great meal, Chad and his father-in-law decided to go rent a movie to wrap up the evening with the family. Having seen National Lampoon's Christmas Vacation on TV, Chad recommended it and was excited to enjoy laughs all around. However, the unedited version of the movie had several embarrassing and unnecessary scenes that made for an awkward experience. And so was born the idea for a service that would allow an individual or family to have controls over their home movie watching experience. Now, with this breakthrough technology and service, you too can Enjoy Movies Your Way!
Shemiah is the lead developer at Enjoy Movies Your Way. He grew up in Montana and graduated from Montana State University with a bachelor's in Electrical Engineering.
Prior to meeting Chad, Shemiah had written his own Google Chrome extension to filter profanity from Netflix and Amazon shows. He met Chad playing ultimate frisbee, where he learned Chad was starting a company and looking to hire. Amazed that they had the shared interest of creating video filtering software and both had done related work individually, they joined forces and Shemiah became Chad's first employee.
Shemiah and his wife, Anna, have one little boy. For fun, he enjoys playing ultimate frisbee, playing guitar, and hanging out with friends and family.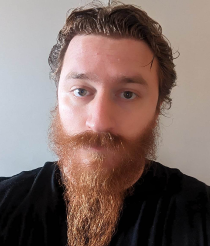 John is a developer at Enjoy Movies Your Way, mainly focusing on the developement of Enjoy's Roku Channel. He grew up as a missionary kid in Papua New Guinea, where he met Chad. He graduated from California Polytechnic State Univeristy San Luis Obispo with a Bachelors in Computer Science. In his free time he enjoys creating things with his hands (chain mail, knitting, etc…), playing pickleball, and serving where he can at his church.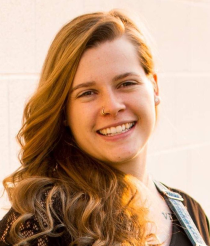 Michaela is a dedicated contributor to the Enjoy tagging team. She is a new boy mom, a worship leader at church and a part-time nanny who likes to spend her limited free-time weight-lifting, snowboarding and horseback riding.
Michaela has been married to her husband, Nick, since July 2016 and now lives with her growing family (and their new dog, Ziggy!) in Spokane, WA. She loves to travel and dreams of someday moving to LA to pursue acting and ministry.
People who lent their expertise and encouraged the idea of Enjoy Movies Your Way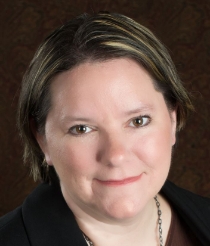 Traci was an early contributor to Enjoy Movies Your Way and is the creator of the SIR Scale. Traci has an MBA and works from home as a computer programmer. Through her business, Provident Designs, she creates databases for small businesses to track information.
Traci and her husband Greg are the parents of five children. Knowing that people are influenced by the media they consume, they are careful about the content their children are exposed to. In her free time, Traci enjoys time with family, listening to audiobooks, and sitting on her front porch appreciating the greenery of the Pacific Northwest.
Watch movies your way today.