Filter content from major streaming services.
Multiple levels of filtering give you complete control of your viewing experience
It's easy to adjust your settings with just a few controls. However, our drill-down menus let you see every filter option and fine tune your viewing details. You can even preview scenes to decide if they're appropriate or not.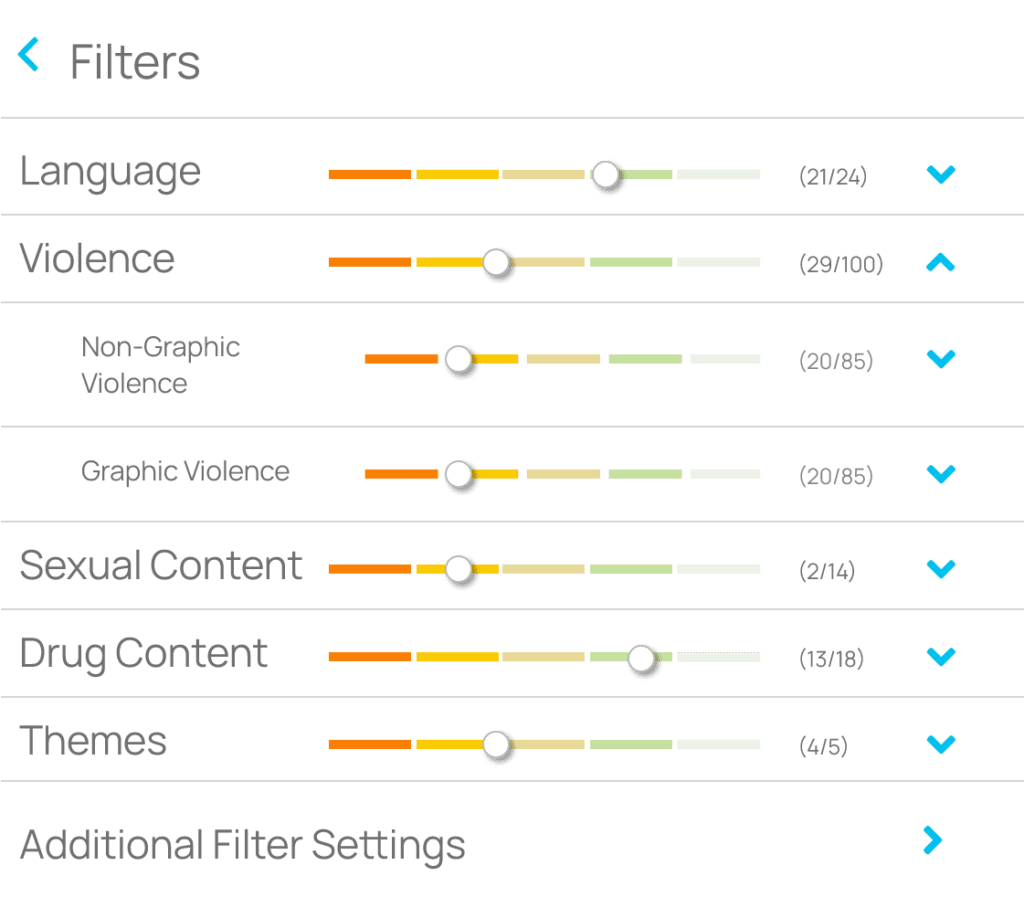 View all your streaming sites, prescreened through the

app.
Take control of your watching experience today.
Watch major movies and tv shows the way you want.
EnjoyTV is an advanced video controller for major streaming platforms. Simply connect your existing accounts from hulu, netflix, disney+, and more. Then enjoy our app's enhanced watch experience. Features include language filtering, playback speed control, robust subtitle translations, and much more.
Our growing library of thousands of movies and TV shows have had graphic content manually tagged. Auto-generated language filters can be applied to any show you stream! We use a scene intensity rating system that allows you to control the types of content you hear and see according to your settings.
Adjust playback speed, volume levels, and customize filters for language, violence and more.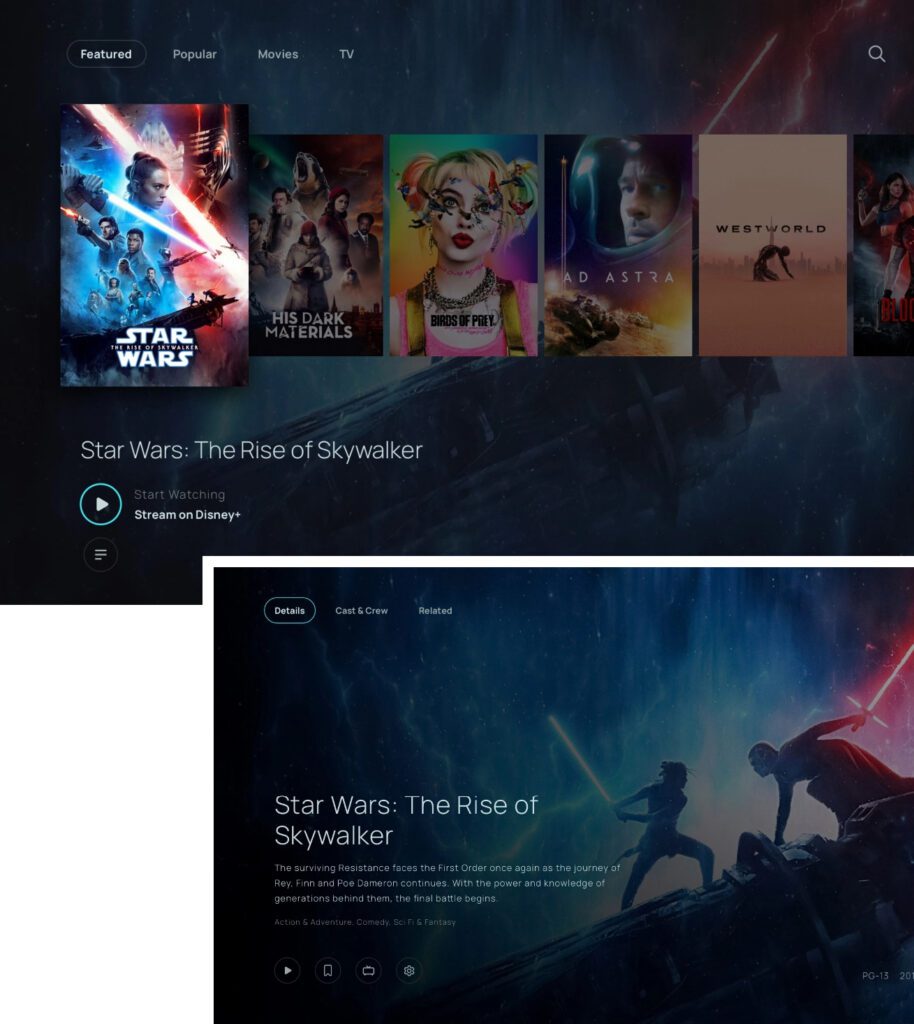 For only $5.99 per month you can take back control of what your family watches.
My entire family loves this service we can watch movies together without the cringe moment.
We tried this service for the first time tonight with our streaming account on Prime. It worked! We were so happy 😊 My husband loves his action movies but hates the language. It bleeps out the sentence and even the closed caption.
It works! I just connected my streaming services, and now I have all these extras, and especially the language filters for all the shows I watch! Love it! Keep up the good work.
Absolutely love it and truly appreciate that someone makes an app like this. It works wonders and thanks to this app I can enjoy many movies with my child! And won't watch TV without these filters! Super appreciate this app!
Wonderful app. Allows children to watch TV shows without foul language.
This program works GREAT on firestick for movies and tv series on Amazon prime that otherwise we wouldn't watch. I use captions because of my hearing loss, and it likewise doesn't show the language. It's a vital part of our TV experience and a win/win for all viewers.
Filtering is just the start.​
Do you subscribe to an ad-tier? Use Enjoy's ad skip queue to virtually "DVR" your shows to skip commercials.
Enable volume leveling which makes quiet scenes louder and loud scenes quieter to balance the overall sound. 
Create your own filters for movies you watch. You can also share these tags with other Enjoy subscribers.
Speed up or slow down the playback. See how much time remains in the show given your current speed setting.
Custom Stream Time Remaining
Need to finish the show a little quicker? Set the time you have left before you need to the show to be over and the playback speed will automatically adjust to get the show done in time.
Discover & Stream with Ease​
Your ultimate Movie & TV show collection. We gather movies and TV shows across multiple streaming sites so you don't have to toggle between multiple platforms.
There are so many features already available, and lots more on the way, all bundled together into this easy to install, safe and fun to use app.
What is "Enjoy Movies Your Way"
"Enjoy" is an App for your smart TV and mobile device that helps you to customize movies and TV shows you stream! You gain access to family-friendly filters and lots of other features that bring even more fun to your movie watching experience. 
Enjoy's service aims to accomplish these main purposes:
Offer access to a wide range of video content that can be made family friendly for all ages (e.g., kids, parents, in-laws, dates, etc.).
Equip families and individuals with tools to personalize and enrich their movie-watching experience.
Maximize the potential for personal and relational growth through the power of TV storytelling.
Do you support smart TVs and mobile devices?
Yes! Enjoy is available for Android & iOS tablets and phones, Android & Amazon Fire TVs, Roku devices, and desktop Chrome browsers.
Casting works too! (some casting options may not yet be available for some streaming services)
How does it decide what to do?
Through the use of the Scene Intensity Rating (or SIR) scale and meta-data tags, Enjoy software identifies particular time segments within a scene and categorizes the content, creating "tags". These tags unlock supplemental content and enhancements such as: skip and mute filters, trivia content, special subtitle controls, playback speed control and more.
Wait, is this legal?
Yes!
We have a completely new approach that sets our service apart from other services you may have heard about that were shut down.
The short answer as to why, is that our service does not violate US copyrights, or create what would be considered derived art.
The technology we developed is specifically designed to comply with US copyright laws. Namely, the US Family Movie Act 2005, US Privacy Act of 1974, US Fair Use Act 2007 and also in consideration of the 4th amendment to the United States Constitution.
A bit more explanation...
In the Enjoy app, you connect to the account associated with your streaming services, like Netflix, Hulu, etc. Our app will use that account to stream shows you already have access to on those sites. In order to comply with copyright laws, Enjoy streams directly from those sites to the client app. We don't host any of our own video content or have any intermediate servers, which is why our service is allowed to operate under current US copyright law.
With the Chrome extension installed on your computer browser, it will automatically activate itself whenever you start watching something on a supported streaming site.
The same in-show features are available whether you are using one of the apps or the chrome extension.
How much does Enjoy cost?
The Premium plan offers unlimited use, no intermission breaks, and access to all available features for only $5.99 per month.
When do you charge my account for the Enjoy service?
If you have ever only signed up for the Free plan, then you won't be charged at all!
Should you decide to sign up for the paid plan, the day you sign up will be the start day for your billing cycle. If you sign up on a day that is not repeated each month, then the last day of the month will be used.
Downgrading Your Plan
Should you choose to downgrade from the paid plan to the free plan, you can continue to use your paid plan until the end of the billing cycle and there will be no further charges.
We do not provide refunds. Please contact us at support@enjoymoviesyourway.com with any questions.
How do I cancel my account for the Enjoy services?
Enjoy is flexible. There are no contracts and no commitments. You can easily cancel your account online by switching your account to the FREE plan. There are no cancellation fees – start or stop your account anytime.
If you have any trouble cancelling your account or want your account completely deactivated, please contact us at support@enjoymoviesyourway.com.
Still have questions?
If you still have some questions, or are looking for answers to a specific problem, please check out the Help Center for even more FAQs, tips and tricks! Or feel free to contact us at support@enjoymoviesyourway.com.