Hulu Profanity Filter: Family-Friendly Streaming
Profanity Filtering on Hulu
Accessing inappropriate entertainment has been a concern for parents since the inception of media, from magazines and books to the latest innovation- streaming shows and movies. While streaming platforms like Hulu have revolutionized the way that families consume media. Many streaming services have introduced Kid's Profiles as a way to help parents protect their children, but does it really deliver the best child-friendly experience?
Parental controls have evolved alongside entertainment technology, such as language filtering software to combat profanity and inappropriate language, but not every streaming platform delivers the tools to do so effectively. With Hulu, there are some ways to ensure your family enjoys movies and shows that are more in line with a family's values or age-appropriate: 
One way to ensure your family only accesses family-friendly content is to set up a Kids' profile on Hulu. Remember that Hulu, like other streaming platforms, relies on MPAA ratings and the content that will be available is friendly to all ages:
Create a new Profile or choose the profile you want to make kid-friendly

Toggle the Kids' switch ON



Any offensive language and words in titles and content shouldn't be listed in these profiles as it will be for "All Audiences", generally this means G-rated. 
Kids of certain ages tend to look for loopholes around the restrictions their parents place and disrupt the safe streaming environment provided. Luckily, Hulu provides a PIN setup to ensure they cannot turn off the Kids Mode:
 Go to Hulu.com and hover over your Profile icon

Select Manage Profiles

Enable PIN protection by toggling "on"

Enter your password



Hulu's version of parental controls is helpful, but that means a large amount of titles can't be seen and older kids or parents are reduced to only watching G-rated material.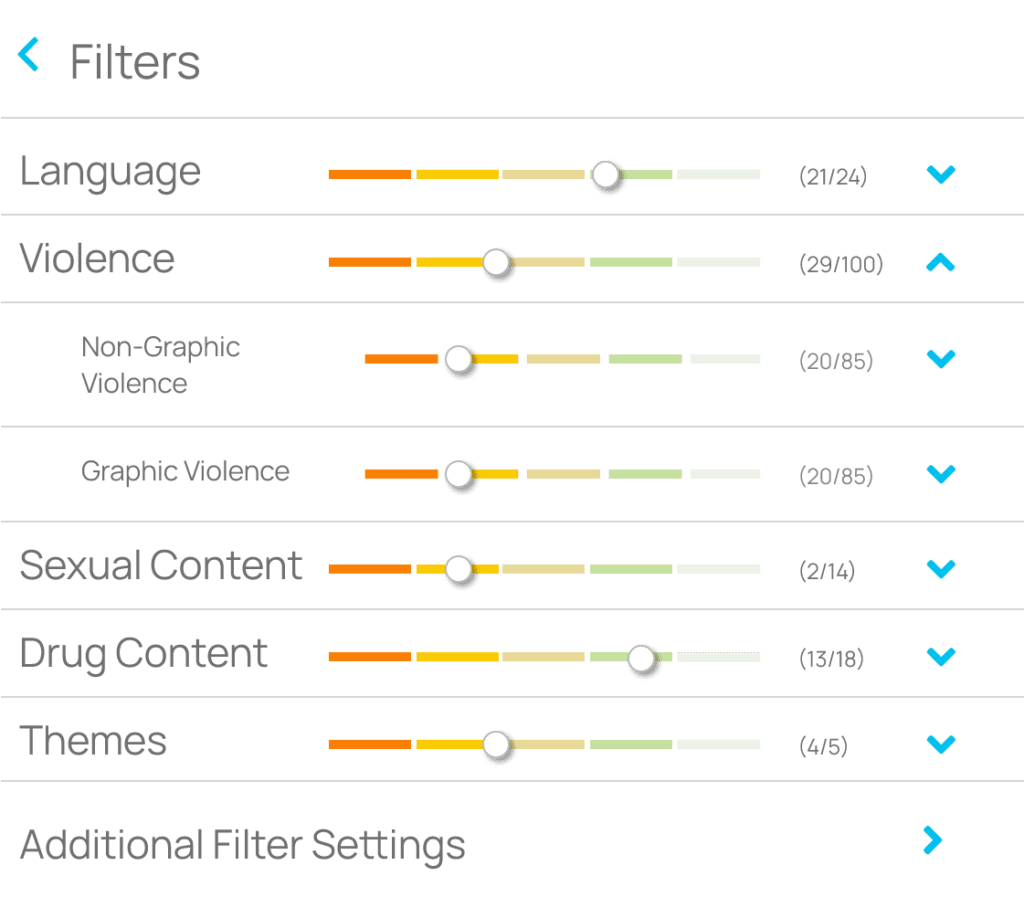 Filtering Profanity and Language Technology
There haven't been any specific user-recommended tools on the community platform, but Enjoy Movies Your Way fits the bill for a lot of the desired qualities they're looking for, especially the parents who suffer from a lack of tools to better moderate their children. 
Enjoy provides two primary tools to give parents streaming superpowers:
AI Language Filtering

Visual Scene Filtering 
Our AI program "reads" movies and shows to catch and eliminate profanity based on the filters you've chosen. Rather than "bleeping" it out, the word isn't heard or seen in the subtitles. Our scene filtering behaves similarly, letting users enable filters like:
Choose the level of non-graphic violence (fighting without blood or bruises)

Selecting the level of graphic violence (fighting with physical marks and blood)

Sexual content

Adult themes (subject matter)

Drug content
User Community Ideas and Insights
Hulu's content moderation extends beyond the Kids Profile feature, in a way. Many production companies and studios pre-edit their titles before sending them to Hulu, which has created an uproar on their Hulu Community platform. Hulu users frequently post on the message board about how they should have the tools to choose for themselves and are utilizing the community resources available to get Hulu to listen. The streaming giant itself put out a statement stating that they don't edit or filter out profanity themselves and that they stream titles as it is sent to them due to the backlash.
This has resulted in long threads with user-generated ideas, some from parents who say the lack of profanity filter extensions and tools on Hulu make it difficult to watch titles with their family. Users have begun suggesting features and qualities they want Hulu to implement, but there hasn't been any movement toward providing solutions based on the feedback.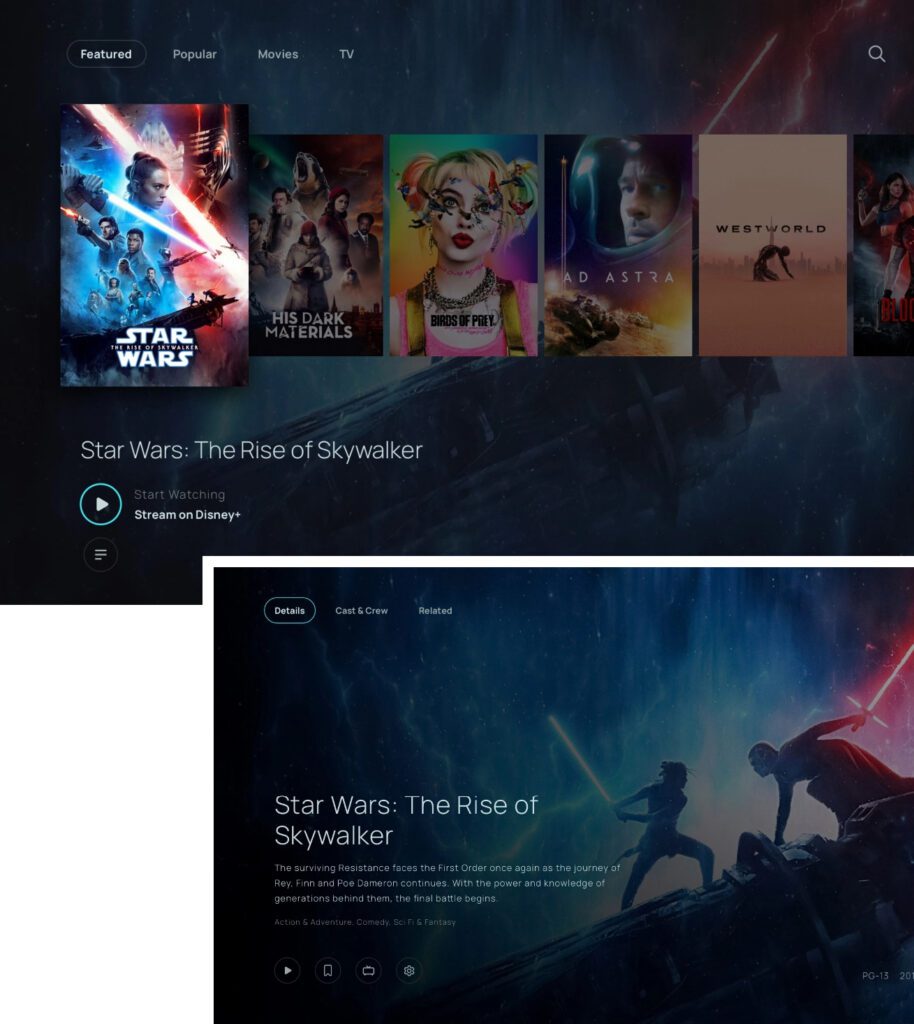 Take control of your watching experience today.
Enjoy also provides other tools to create a better experience and to customize titles on any streaming platform they've connected Enjoy to:
If bound to an ad tier, you can skip the commercials using our virtual "DVR."

Increase or decrease your playback speed and see how much time is left in a show.
One of our most significant customization benefits! Create your own filters for movies and shows, and even share them to help other families enjoy movies their way.
Sign Up for the Hulu Profanity Filter
Take control over your family's viewing experience instead of waiting for Hulu to provide you with the tools. Our goal at Enjoy Movies Your Way is to combat the ease of access to inappropriate material and empower families with easy-to-use tools, from the filtering itself down to our registration process. 
Join Thousands of Satisfied Users
My entire family loves this service we can watch movies together without the cringe moment.
We tried this service for the first time tonight with our streaming account on Prime. It worked! We were so happy 😊 My husband loves his action movies but hates the language. It bleeps out the sentence and even the closed caption.
It works! I just connected my streaming services, and now I have all these extras, and especially the language filters for all the shows I watch! Love it! Keep up the good work.
Absolutely love it and truly appreciate that someone makes an app like this. It works wonders and thanks to this app I can enjoy many movies with my child! And won't watch TV without these filters! Super appreciate this app!
Wonderful app. Allows children to watch TV shows without foul language.
This program works GREAT on firestick for movies and tv series on Amazon prime that otherwise we wouldn't watch. I use captions because of my hearing loss, and it likewise doesn't show the language. It's a vital part of our TV experience and a win/win for all viewers.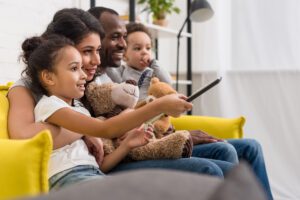 VidAngel is one of the better-known content filtering services that families use to help ensure movies and TV shows are appropriate for their children. With
Read Article »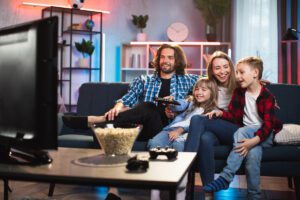 Hulu fairly recently began censoring television shows streaming on their platform with many asking if there is a way to turn it off. While bleeping
Read Article »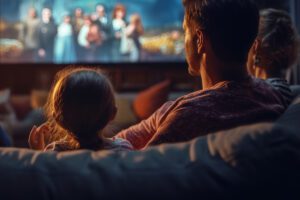 Managing and controlling content on streaming platforms can help regulate what your children are exposed to and ensure that they're only watching appropriate TV shows
Read Article »