Access to age-appropriate family content usually means only certain films or shows can be watched. However, that leaves out a lot of content that could make for memorable family movie nights. Luckily, we live in an age where families can access popular clean titles for different age groups using various tools and what essential tools they are.
While streaming and the ease of access to various forms of entertainment are spectacular, the downside is kids have too much access to a lot of inappropriate material. It's complicated to monitor what kids see and filter out inappropriate content. It can also be time-consuming to screen new films or shows to ensure they only see what is appropriate for them.
The fact these tools exist underscores the importance of clean versions for families rather than sticking to only films and television shows aimed at young children. Even then, the Motion Picture Association (MPAA) ratings don't always align with what parents think is appropriate. 
Let's look at the tools that provide clean versions vs. traditional content available for parents today. 
4 Filters Used to Make Clean Versions of Movies on Netflix
Filters are a way to have a tailored viewing experience while streaming movies. Some filters have built-in features, such as content filtering on Netflix, while others are programs that help make clean versions of titles available. 
Explore each tool below to see which works best for your family:
Netflix Settings & Profanity Filter
Netflix content control settings are pretty straightforward and managed through your "Account" page. You can set maturing ratings, block movies, and create a "Kids" profile to access only certain rated content. We've separated each way to customize content preferences on Netflix below:
To set maturing ratings and enable parental controls on Netflix:
Go to your account page via a web browser.

Open the "Profile & Parental Controls" settings for the profile you want to set content limitations.

Change the "Viewing Restrictions" setting.

Enter your Netflix password.

Set the maturing rating level for the shows and movies for that profile.

Select save.
To block movies on Netflix:
Go to your account with your preferred web browser.

Open the "Profile & Parental Controls" settings for the profile you want to block titles.

Change the "Viewing Restrictions" settings.

Enter your Netflix password.

Under "Title Restrictions," you can type the name of the show or movie you want to remove and click on the title when it appears. You can also remove titles from your list by clicking the "X" next to the title name.

Select "Save."
To create a kid-friendly profile on Netflix:
Go to "Manage Profiles" within your account page.

Select "Add Profile."

Type the name for whom the profile is for and select the "Kids" option.

Click "Continue."
As you can see, directly filtering explicit language on Netflix isn't possible. Instead, the closest the platform comes to a Netflix profanity filter is relying on MPAA ratings, empowering parents to block titles out completely, and creating an age-based profile.
VidAngel
VidAngel content filtering connects with platforms like Prime, Apple TV+, AMC+, and Netflix. Their solution to filtering out inappropriate material is skipping over scenes that fall within the settings set by parents. These filters have subsections, such as "sex/nudity/immodesty." These subsections are broken down into "nudity w/sex," "nudity w/o sex," "sexually suggestive," etc. Like any other service, there are pros and cons of using VidAngel:
The pros of using VidAngel are the robust filtering options, custom filtering settings, and the massive selection of titles available on their platform.

The cons are that it only works with some streaming platforms and excludes popular services like Disney+ or films produced by Warner Bros, 20th Century Fox, and Lucas Films. Also, VidAngel doesn't work with live streaming. 
ClearPlay
ClearPlay began as a DVD player that allowed users to skip and mute objectionable content, but with most people streaming rather than playing movies, they've moved with the audience. ClearPlay content filtering is a lot like VidAngel, allowing users to set filter options when streaming movies. However, their title selection is limited and only available as a Chrome browser extention. This means that when using ClearPlay, it's only available on your desktop as a Chrome extension. To use ClearPlay on the TV, you would need their DVD player, which is currently on backorder and only works with DVDs.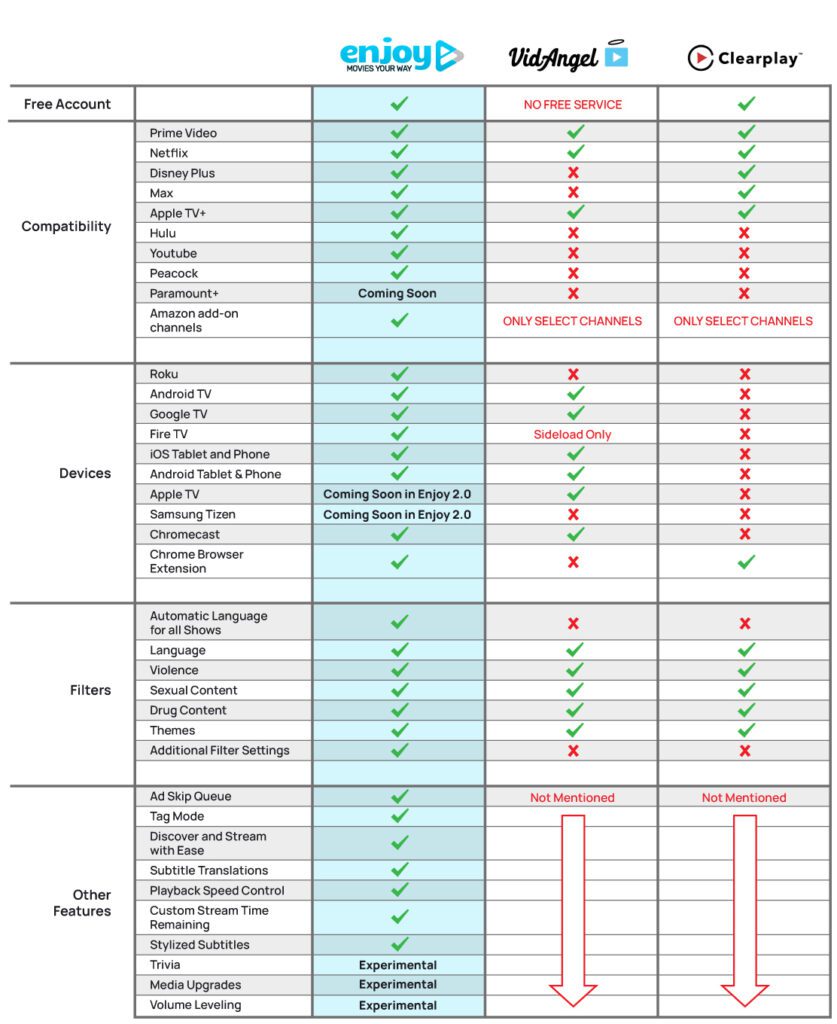 Enjoy Movies Your Way
We at Enjoy have taken things up a few notches compared to the other options. For example, VidAngel and ClearPlay stream on their platforms while connected to your streaming service. Doing this means that production companies can take issue with any filtering or editing, which is why VidAngel doesn't work with Disney+. On the other hand, we don't stream on our platform and give users the tools to filter content their way on whatever streaming service they're using. 
Our AI language filtering is one of the critical advantages of Enjoy Movies Your Way. The program "reads" movies and television shows to look for profanity and other objectionable words that fall within your filtering settings. Beyond our language filtering technology, we also provide visual scene filtering with settings that include:
Choosing the level of non-graphic violence (fighting without blood or bruises)

Selecting the level of graphic violence (fighting with physical marks and blood)

Sexual content

Adult themes (subject matter)

Drug content
The Enjoy Movies Your Way service is more than language filtering. We offer other tools for families to use that ensure appropriate content, such as:
Ad Skip Queue: if bound to an ad tier, you can skip the commercials using our virtual "DVR."

Playback Speed Control: adjust your playback speed and see how much time is left in a show.

Tag Mode: One of our most significant customization benefits! Create your own filters for movies and shows, and even share them to help other families enjoy movies their way. 
Whether it's Enjoy Movies Your Way and Netflix or AppleTV, Prime, Max, or others, we give parents streaming superpowers to ensure that the entertainment their kids are consuming aligns with your values and what you consider appropriate for them.